Tasting Notes
Rothenberg
2012 - Rothenberg Wurzelecht Riesling GG
In the nose beautiful minerality, stonefruits with plums and cherries, also exotic flavors of passion fruit and mango, fresh and smooth. Deep and smooth on the palate, softly balanced but powerfully complex. A great Riesling indeed!
Pettenthal
2016 - Pettenthal Riesling Spätlese
Very present slate minerality meets peach and apricots in the nose, spices like clove and cardamom add to a great combination. On the palate a very fine sweetness that doesn't come heavy but with a lot of elegance, fruit notes of yellow apples, star fruit and pear. All elegantly integrated into the minerality. Very good Riesling!
2008 - Pettenthal Riesling GG
The #pettenthal has always been on of our clear favorites in #rheinhessen. This one is no exception! So elegant, so fresh, so complex, so fun to drink. The cooler vintage #2008 is just perfect.
Hipping
2016 - Hipping Riesling GG
Beautiful floral, herbal and red slate minerality nose. Can't stop to put our noses in the glass. There are fruit notes of gooseberry, lemon peel, slight peach. On the palate a great crisp acidity mixes with powerful minerality, citrus flavors, roasted nuts, salt, herbs. Finishes long with lemon and spicy slate. Wicked! It's already quite hard to get because it's really good.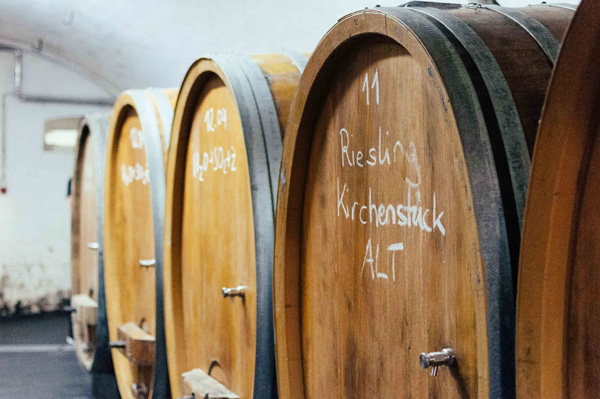 Read our blog story: "Kühling-Gillot and Battenfeld-Spanier: Visiting an amazing Riesling couple"